Working with people with learning disabilities is a rewarding and beneficial opportunity for employers.
Don't just take our word for it...
Thanks to our programmes, young people like Bradley (pictured right) are now in paid employment. His manager at The Grand Brighton says:
Every candidate we've welcomed to The Grand has thrived. Team Domenica always ensures that the fit is right for each young person and will work through any concerns together. Seeing the confidence of the candidates grow and their skills develop as they work alongside our team is a tremendous inspiration, and when the ultimate goal of securing a role in our business is realised, there's no better feeling for everyone!

Andi Hirons, People Director, The Grand Brighton
Work with us
Workplace experience is key to our candidate's success. Our employment centre works to establish mutually-beneficial opportunities for candidates and employers alike. Partnered employers can work with us by offering one, or more, of the following:
Work Experience Placements: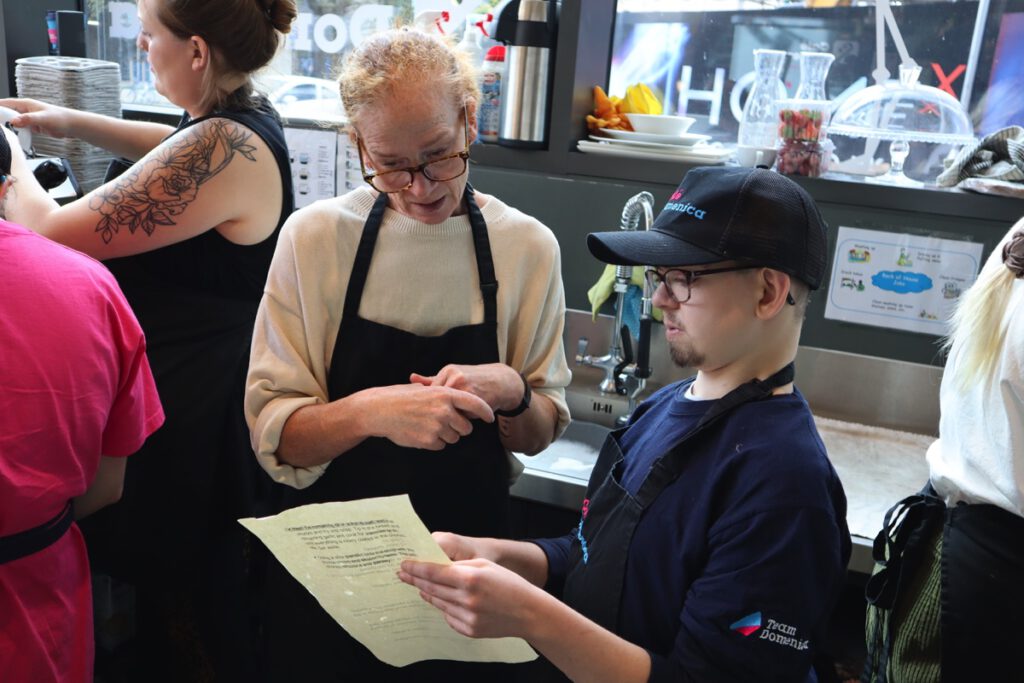 Unpaid external work placements for two hours per week accompanied by a one-to-one Team Domenica Training Mentor. These placements give the candidates a gentle introduction to different work environments. Candidates also get an idea of what type of job they enjoy, so they can consider their future career.
Supported Internships:
The candidate is in the workplace for at least 12 hours a week, for up to 26 weeks. Each internship is chosen based on the candidate's interests, skills and ambitions, and every candidate is fully supported by one of our specialist Job Coaches. If all goes well, paid work is typically offered within three to six months.
Paid Work:
Our Wrap Around Programme ensures mutual and continued success. This is because, after an offer of paid employment, we make a commitment to all our partnered employers to keep in regular contact and support them – and our candidates – as necessary.
The Benefits
There are multiple benefits to working with our candidates, some of these include…
Our candidates want to work and can work.
Once settled and confident in the team, our young people will probably be one of your most loyal and committed employees.
Staff morale increases, as the team feels they are doing something valuable and helpful on top of their usual job.
Compliance with the Equality Act 2010 and the opportunity to join the government's Disability Confident Scheme.
100% of our partners say that working with our candidates has benefitted their business, and 88% would consider employing more people with learning disabilities!
Since starting with us, Sam has far exceeded my expectations and is now honestly one of our best team members. Guest feedback about him is fantastic too- he's received more compliments via google reviews than nearly everyone in the company!

Everyone from Team Domenica has been super supportive throughout the whole process, from the job coach, regular reviews and the wider team. We've genuinely loved having Sam become part of our team and we cannot wait for what's next!

Sam, manager at Pizza Pilgrims, Brighton
Our Support
Our employment centre is on hand for support throughout every step of the candidate's workplace journey. They create and maintain thoughtful partnerships with local companies, consider a candidate's aspirations when finding their ideal placement and provide guidance and advice on employing young people with learning disabilities.
They also manage our experienced band of Job Coaches. This group works onsite, alongside the candidate and employer, offering bespoke training for both parties throughout their employment journeys. Using their wealth of experience and knowledge, Job Coaches ensure that all skills gaps are identified and filled, and that any ongoing problems are resolved.
To find out more about the support provided by a Job Coach, follow this link.
We have gained invaluable support from our candidate's Job Coach, Jill. She is the glue that guides this whole process. She makes sure that everyone is happy and helps our team if we have any questions.

Stephanie, Guest Experience Team Leader at SEA LIFE Brighton
Our Employer Partners
We have an excellent reputation with our partnered employers. We currently support over 50 local business, across a variety of industries. Examples include: Café Rust, Brighton i360, The Mercure Hotel, Morrisons, The Grand Brighton, Pizza Pilgrims, Hobbycraft, Theatre Royal and SEA LIFE Brighton.
Work with us
Interested in joining our growing community of Employer Partners and want to find out how your workplace can help create futures for young people with learning disabilities?
Please email us at supported-employment@teamdomenica.com
If you're looking for other ways to get involved – such as through corporate partnerships, volunteering or fundraising – we have plenty of exciting opportunities that help businesses meet their objectives, whilst making a meaningful impact on the lives our candidates and their communities. Click here to find out more.